Know Elevator Maintenance
May 18, 2018
Dangerous Business
June 25, 2018
Modular Hoistway Packages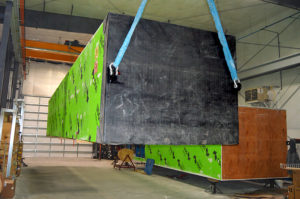 Time is always the nemesis of the construction industry. Everything done at the job site is measured in minutes, not hours, and squeezing even a small amount of time out of a project can make a big difference.
The problem is that, often, cutting time off the completion of the project can only be accomplished at the cost of quality. As the old saying goes, "I can do things good, fast, or cheap. Pick two." So it is very rare when a high quality product is available at a fair price that can accomplish your goals quickly. However, that is just the case with Phoenix Modular Elevator hoistway packages.
As we all know building the hoistway or shaft is a real time suck on any building project. Hoistways are often the first thing that goes up on a job site and temperatures and weather conditions can play havoc with the erection of the shaft and the schedule of the whole build. Buying the hoistway from us easily solves that problem. Our hoistways are produced quickly, because they are manufactured on an assembly-line in a factory with no weather delays. They install quickly in just a handful of hours. But more than that they are higher quality than the stick-built alternative because they are always produced plumb, straight and come fire-rated. Lastly, the investment is comparable in cost.
Benefits:
→ Perfectly plumb due to our process, easy inspections and quality controls.
→ Custom dimensions and they are stackable for any height.
→ Manufactured in three weeks.
→ Installed in a few hours.
→ Already fire rated.
→ Interior or exterior placement. Wherever you need them at any point of the build.
Options Include:
→ Free standing. Single towers need no special bracing or tied to the building.
→ Can be gravity load bearing.
→ Pre-installed rails means perfectly plumb every time. Less for the elevator installer to do.
Of course we can produce the hoistway with an elevator pre-installed as well. The elevators are comprised of our steel hoistway with the elevator car and components installed inside and completely pre-wired. This makes our elevators and hoistways the fastest and easiest to install in the elevator industry.
If you are looking for the best way to trim time off you next multi-story project, a hoistway or elevator from Phoenix Modular Elevator is the wisest choice.